The Voice of Mobile Film™ is for everyone who ever wanted to or is curious about making movies and videos using smartphones.
Susy Botello created the SBP Podcast Mobile Filmmaking in 2017 to give a voice to her passion for storytelling and film through smartphone filmmaking. The podcast is exclusive to this idea. The SBP Podcast promotes and inspires people all around the world in the mobile filmmaking community.
S. Botello Productions™ (SBP) is a pioneer in the mobile filmmaking industry, one of the first–if not the first–to bring films shot with only mobile phones to the big screen in a traditional film festival style in 2009 with the International Mobile Film Festival in San Diego, California.
Like our podcast logo? The caricature of podcast host, Susy Botello was created by the founder and comics artist Keithan Jones of Kid Comics.
In 2020, SBP also created the first streaming service for films and videos shot with smartphones: Mobile Film Stories.
I am in Clubhouse.
SHOP: SBP Podcast Merchandise store open 24/7!
SPONSOR: Filmmakers and Content Creators, check out our sponsors at Jambox.io and receive a 20% Discount. Add the promo code: SBP20 during checkout. Disclaimer: By purchasing products from our sponsor, we may earn a small commission.
SOME REVIEWS ON APPLE PODCASTS:
To the next generation of filmmakers 🌟🌟🌟🌟🌟
"As the founder of the International Mobile Film Festival, Susy Botello is the perfect person to offer advice on all the amazing possibilities of mobile filmmaking. The guests on the show provide different backgrounds and great tips for filmmakers, marketers and anyone else looking to experiment with smartphone video." Tim - Under the Capes
Great podcast 🌟🌟🌟🌟🌟
"Fun and informative! Love what Susy is doing to promote accessible filmmaking for everyone world-wide!" Tracy Hot Nerd Girl
Fascinating Stories 🌟🌟🌟🌟🌟
"Lots of interesting people creating great films with a mobile device and Susy knows all of them. lol" Ant Pruitt
UPDATE: The SBP Podcast has reached a milestone with our 100th episode and we're not slowing down!
We have partnered with Jason C. Marshall to include a series of storytelling episodes in our show mix. These episodes will bring our listeners looking to make films a lot of inspiring information about story in film and its elements, like story structure, the beats, story arch and more. The series, In The Weeds will focus on empowering filmmakers with the skills to make captivating films with great stories. Listen to Episode 107 as an introduction to Jason C. Marshall.
S. Botello Productions™ has a publication called Smartphone Filmmaking on Medium.com in which we share articles for SBP and our podcast.
Jason C. Marshall has officially joined our publication as a writer on September 9, 2021. We are honored and look forward to Jason's contributions in our podcast series and the SBP publication, Smartphone Filmmaking.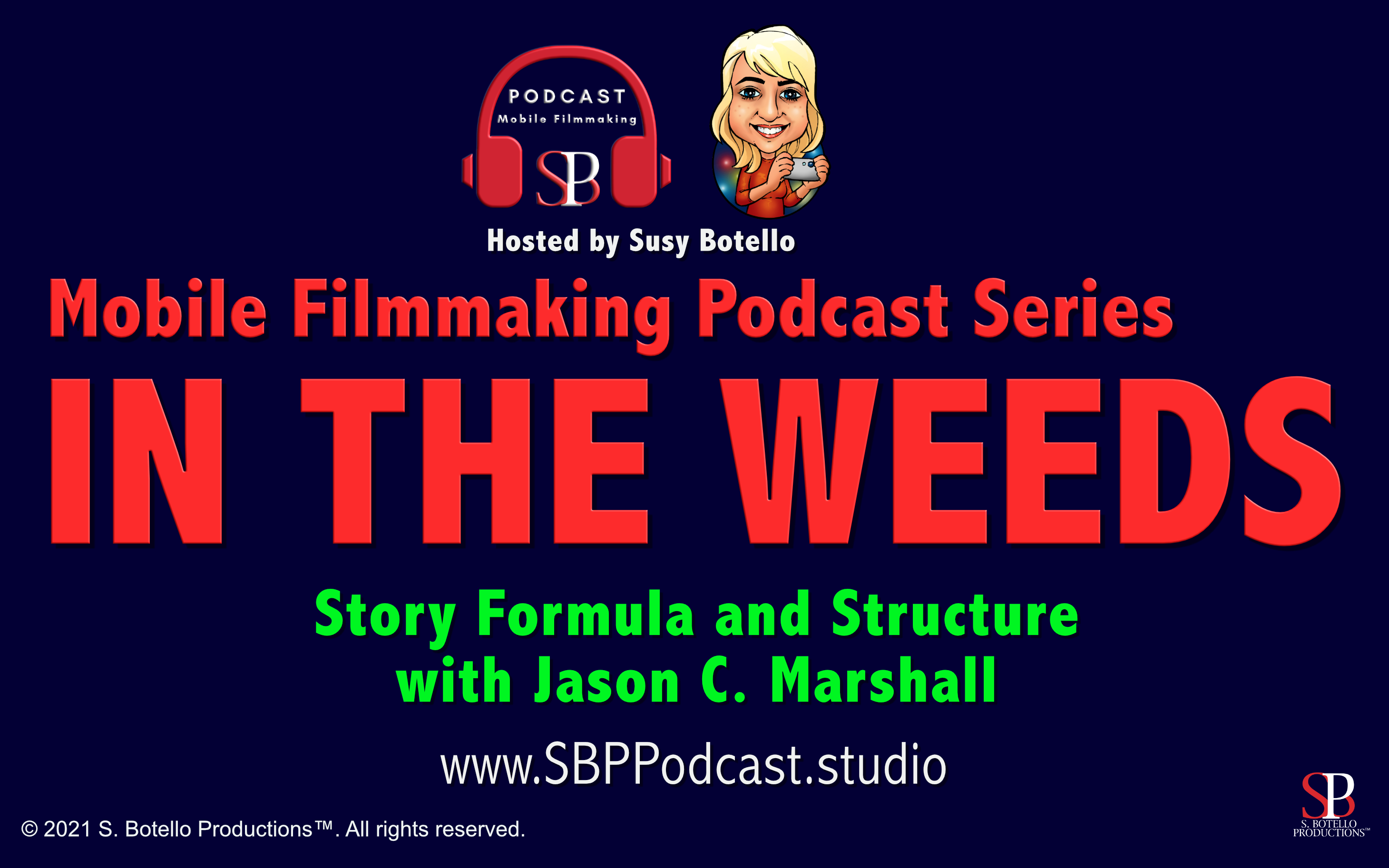 ADVERTISERS: If you would like to advertise on our podcast we have limited space in our episodes.
PODCASTERS: Use this link to get a free month on the unlimited plan at Podbean.